Prestigious Award for Browns Field (KGV Memorial Fields Prescot)
Prescot Town Council were immensely proud today (14/10/21) as this year's Green Flag Awards were announced and Brown's Field aka King George V Memorial Playing Fields, Wood Lane, Prescot was one of the sites to achieve the prestigious award.
The award comes after lots of hard work between the Town Council, Knowsley Council, the Friends of KGV Brown's Field and Carr Lane Woods and Berkley JFC. The judges were particularly impressed with the wide range of use on the site and the plans for the future which include a new playground, pitch improvements and a new building to facilitate the needs of all park users.
This award means that 3 of the 4 Prescot green spaces now hold green flags with Carr Lane Woods being the final piece of the jigsaw.
A huge pat on the back goes out to all those involved, together we have completely changed the destiny of this site retaining its importance for future generations of Prescotians to enjoy.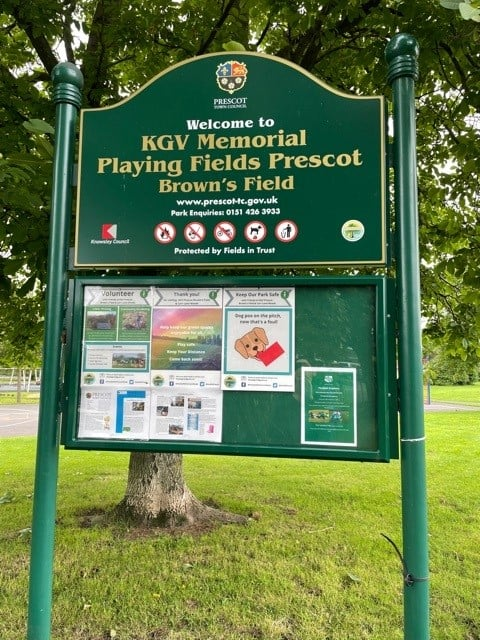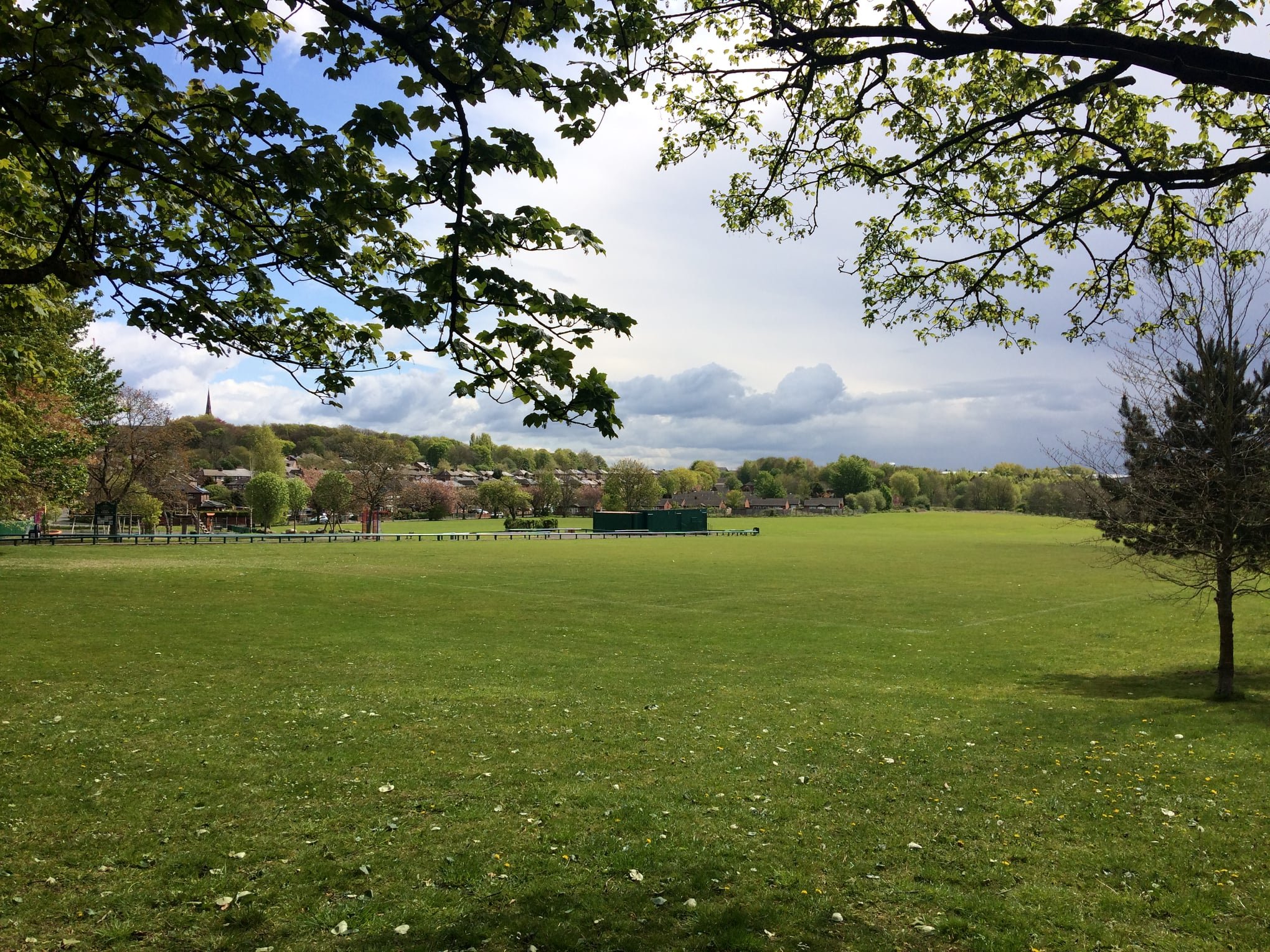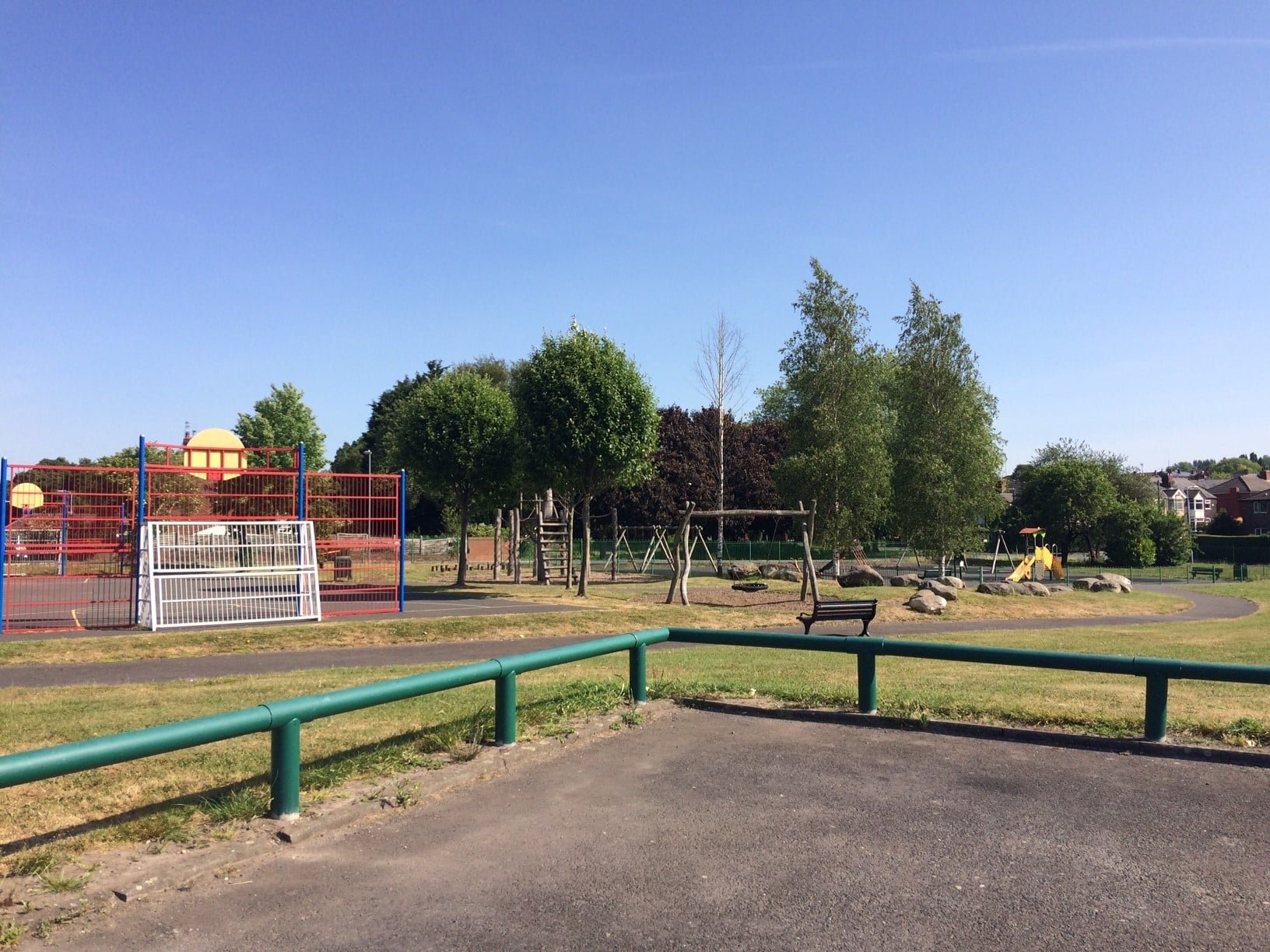 Where to access COVID-19 Testing in Prescot for people with no symptoms
If you don't have symptoms:
Community Testing sites:
Prescot has one Community test site offering testing (through Lateral Flow Tests). You don't need to make an appointment, but please only visit this site if you do not display any symptoms.
Prescot
Unit 6
Prescot Shopping Centre,
Eccleston St,
L34 5GA
operating on the following hours:
Tuesday – Thursday  09:30 – 16:30
Friday                          09:30 – 16:00
Saturday                     10:00 – 16:00
You can also collect home testing kits from the Community Testing sites.
Remember a positive test means you have COVID-19 and you (and others in your household, support bubble and close contacts) need to self-isolate for 10 days.
Pop-up sites
The Mobile Response Unit and engagement team will be providing pop-up testing at the following site in Prescot.
12/8/2021
Thursday
Prescot Cables Retail Park L34 5NQ 10am-3pm
13/8/2021
Friday
Prescot Cables Retail Park L3, 5NQ 10am-3pm
14/8/2021
Saturday
Prescot Cables Retail Park L34, 5NQ 10am-3pm
Need Help getting a COVID vaccination
Prescot Town Council – School Uniform Recycling Project 2021
School Uniform Donations Needed
SCHOOL UNIFORM DONATIONS NEEDED
Prescot Town Council are pleased to announce that we will once again be able to receive your donations of Good Quality School Uniform from Monday 5th July 2021 between 9.30am – 4.30pm weekdays only at Prescot Town Hall.
Uniforms accepted from
St Mary & St Paul's Primary
St Lukes Primary
Prescot County Primary
Evelyn County Primary
Our Ladys Primary
Edmund Arrowsmith Academy
Prescot Academy
All uniform must be a condition you would put on your own children, freshly washed and placed in a securely tied bag (not left loose) as they will be placed in a secure bin once donated.
Please use the buzzer at the car park barriers or via the front door entrance to alert staff that you wish to donate school uniform and you will be directed to where the donations can be left. All donations will be received contactless.
The Uniform recycling scheme is for everyone and promotes recycling good quality uniforms and preventing landfil.
Uniforms will be available every Tuesday and Thursday 11.30-2pm from 27th July to 31st August at the Pavilion, Eaton Street Park.
https://twitter.com/TownPrescot
https://www.facebook.com/PrescotTownCouncil
Mobile COVID-19 Testing in Prescot
Residents in Prescot will be able to access PCR testing due to increasing numbers of cases in the area.
Prescot Soccer Centre on Warrington Road, Prescot. The Mobile Testing Unit will be open from 10am until 3pm on Wednesday 16 June, Thursday 17 June and Friday 18th June
The Mobile Testing Unit will offer COVID-19 testing to residents who are:
Showing symptoms of COVID-19. Symptoms include a high temperature, new or persistent cough or a loss of taste or smell
Generally feeling unwell such as experiencing headaches, a sore throat or runny nose
Have been in close contact with someone who has tested positive
Has been in close contact with someone who is experiencing symptoms of COVID-19
Please note: the site is operating as a walk-in testing site, with limited parking available at each site. Please where possible walk to the testing unit and book an appointment
Booking an appointment
Appointments are required and they can be booked through www.gov.uk/get-coronavirus-test or by ringing 119.  Other PCR testing sites are also available in the Borough (Huyton, Kirkby and Stockbridge Village) and appointments at those sites can be booked through the same link.
Test results are normally returned in around 24 hours.
The Mobile Testing Unit will be located at St Andrew's Church / The Star Children's Centre on Shevington Lane between 10am and 3pm on Wednesday 16 June and Friday 18 June, and at Prescot Soccer Centre on Wednesday 16 June, Thursday 17 June and Friday 18 June.
Residents are asked to remember to wear a mask when attending the Mobile Testing Unit and to ensure they keep a safe distance from those not in their household.
In addition, residents should return home and stay at home until their test result is confirmed.
With restrictions being eased, opportunities for more social interactions and variants of concern in circulation, it's important that anyone with symptoms or who has had a positive test with a lateral flow / home testing kit, are tested. Importantly, if the PCR test is positive, they can self-isolate and stop passing on the virus to others.
New Playground for Brown's Field on its way !!!!!
Prescot Town Council have just received confirmation that the funding application to the Veolia Environmental Trust for £75,000 has been given conditional approval.
The application has been a collaboration between the Town Council, KMBC 's Parks Team and Friends of KGV Brown's Field and Carr Lane Woods, so we are delighted that our partnership approach has paid dividends.
However, the support and feedback of all those who completed the online questionnaire along with letters of support from St Mary and St Paul's Primary, Evelyn Primary and Friends and Family Play Centre will have really helped, so a huge well done to everyone. It might not always seem worth your time and effort, but filling in a simple questionnaire really can make a difference and together we really are improving our Town and Green Spaces for the benefit of all.
We will keep you posted as we progress with the project as there is still a lot to be done before we can contemplate making a start on site.